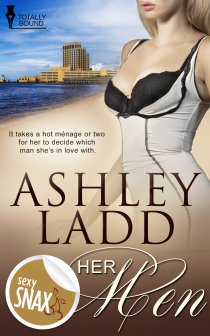 Julie has never forgotten her men Timmy and James. When she gets a second chance to rekindle the romance at their reunion, she can't choose between them.
Forty-four-year-old Julie Weston has loved Timmy and James since her college days twentysomething years ago. She's fantasised about both men all these long years, never able to choose between them.
She attends their college marching band reunion, hoping Tim and James will go too. When both men show up, her dreams are answered. They're sexier than she imagined and she prays that they won't be disappointed by her older self.
It turns out both men came just to see her again and neither is happy about the other man's presence. They fight over her, confusing her more than ever. It takes a hot ménage—or two—for her to decide which one she's in love with.
Author Bio:
Ashley Ladd lives in South Florida with her husband, five children, and beloved pets. She loves the water, animals (especially cats), and playing on the computer.
She's been told she has a wicked sense of humor and often incorporates humor and adventure into her books. She also adores very spicy romance, which she weaves into her stories.
How you can contact Ashley: